Hartford Sub-Aqua Club (HSAC) is a community sports club based in Northwich, in mid-Cheshire. We are an entirely volunteer-run diving club, affiliated with the British Sub-Aqua Club (BSAC.) Our divers come from all walks of life, united by their love for the underwater world.
We Welcome Total Beginners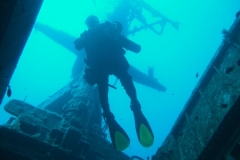 If you have ever wondered what it would be like to dive below the surface of the water and explore a wonderful world that few people ever experience, then you are in the right place!
We can provide a gentle introduction to SCUBA diving and snorkeling, and offer progressive training to the highest levels. All our instructors are volunteers, and this helps us keep costs down without compromising on quality or safety.
Your journey can start with a try-dive, or if you've already decided you want to learn more, with our extensive training programme.
We Welcome Newly Qualified Divers
If you want to continue your training and take your skills to the next level, or you just want to meet new people and go diving, then you are in the right place!
Many of our members join us after doing a basic course while on holiday, and wanting to advance to the next level. We are lucky enough to have a very strong team of instructors, including several who teach at national level, so you know you're in good hands.
We Welcome Experienced Divers
If you've recently moved to the area and are looking for a friendly, active, and economical diving club, then you are in the right place!
If you didn't train with BSAC then no problem. We welcome members with qualifications from all major diving organisations.
Some of our members have been diving for over 30 years, while others teach diving at a national level, so we are able to call on a vast bank of knowledge and experience. Members interests cover a wide range of subjects including marine biology, wrecks, technical diving, and underwater photography. Our active dive calendar, with diving planned all year round, ensures there are plenty of opportunities to get wet. If you are interested in teaching, then we are well equipped to encourage and mentor those wishing to pursue instructor qualifications.
We own and operate our own RHIB (Rigid Hull Inflatable Boat) which usually navigates the waters around the North Wales coast, and have lots of regular organised trips to both UK sites and overseas destinations. We also have our own compressor, allowing us to offer free air fills to members. A huge help in keeping diving costs down!
While we always welcome new members, we are more than happy for you to dive with us as an occasional guest. Please contact us and let us know your experience, qualifications and what sort of diving you would like to do.